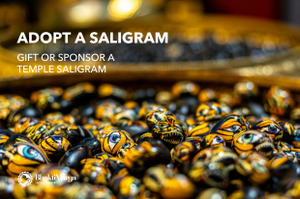 Adopt a Saligram
Regular price
Sale price
$108.00
ADOPT A SALIGRAM FOR THE PARANITYA NARASIMHA TEMPLE! 
Paramahamsa Vishwananda has given His blessing for 1000 saligrams in the Paranitya Narasimha temple in Elmira, NY! We are so happy to offer you this amazing opportunity to "adopt or gift a saligram" and receive the Grace and blessings that comes with taking care of Their daily prayers and needs. 
ABOUT SALIGRAMS: 
A saligram is known as "swayambhu" or a "self manifested" incarnation of Maha Vishnu found in the Gandaki river in Nepal. This means caring for and worshiping a saligram is worshiping Maha Vishnu Himself! The opportunity of taking care of a temple saligram is a rare and special blessing.

In the Paranitya Narasimha Temple, 1000 Saligrams are worshiped daily as the 1000 qualities of  Lord Narasimha, by chanting the Narasimha Sahasranama (the 1000 Names / Qualities of Narasimha) and full abhishekam on each Ekadashi.
When only 108 saligrams are worshiped together it is called Divya Vaikuntha Saligram Sangraham or "the Divine Light of Heaven". Imagine what Grace is present when over 1000 saligams a worshiped together! 
And with daily chanting of Narasimha Sahasranama endless blessings are showered upon the devotees. Here are just a few:
—Chanting the Narasimha Sahasranama removes fears and burns karma from this and previous lives
—Calms the mind and infuses our life with fullness and tranquility
—Removes all obstacles in our material and spiritual life
—Helps cure diseases of mind and body
—Cures all negative effects of the nine planets
—Brings Divine knowledge to the devotee
—It forms a protective barrier around one's mind, body, and soul to all negativity and enemies
—Most importantly, gives Grace in growing our bhakti for Guru and Ishtadevata
When someone adopts a saligram, they are ensuring the daily prayers and Ekadashi abhishekams are able to be performed. In return for this gift of love, Narasimha shares all the above mentioned Grace with the devotee who adopted Him.
HOW TO ADOPT A SALIGRAM: 
There are three options for saligram adoption - 
Adopt a Saligram for 1 year - $108 
Adopt a Saligram for 10 years - $1008 
Gift a Saligram for 1 year - $108 
Selecting the subscription option will renew your adoption on a yearly basis. 
WHAT DOES YOUR ADOPTION GO TO? 
Your "adoption" covers the costs of prayers for your saligram for 1 whole year, or 10 years! This includes Their food, perfume, incense, asan, abhishekam, as well as a silver Tulsi leaf case that holds a Tulsi leaf inside so She is always with Him. 
Each of the 1000 saligrams will be named after one of the names of Narasimha. You will be sent a photo and the name of your particular saligram via email. Each saligram is adopted only by one person.
(please note that you do not receive a physical saligram. Your saligram will be cared for in the Paranitya Narasimha temple in Elmira, NY) 
EXTRA SPECIAL BENEFITS OF ADOPTING A SALIGRAM: 
Your name will be chanted at the inauguration of the Paranitya Narasimha temple! 
Each day when the Narasimha Sahasranama is chanted in front of the 1008 salograms, your name will be remembered and you will receive the blessing from the prayer.
Receive the name and photo of your specific saligram(s) via email.
If you have any questions feel free to contact us at info@bhaktimarga.us!
ABOUT THE PARANITYA NARASIMHA TEMPLE: 
Paranitya Narasimha, meaning the "Supreme Eternal form of Narasimha" is a very special murti which was materialized from the heart of God-Realized spiritual master, Paramahamsa Vishwananda in December 2011.
Now, 11 years later, under the wish and guidance of Paramahamsa Vishwananda Himself, His temple is finally being realized. Located in Elmira, NY, the temple will feature a beautiful 8ft black marble Murti of Paranitya Narasimha (and other deities as well!) for anyone to come see, worship, and enjoy prayers. 
The Paranitya Narasimha temple will also feature a 1000 Narasimha saligram temple, where guests can come and see and offer their prayers. 
Until They are all adopted, everyone can adopt a saligram and receive the incredible blessing of Its worship and care.  
If you have any questions feel free to contact us at info@bhaktimarga.us!