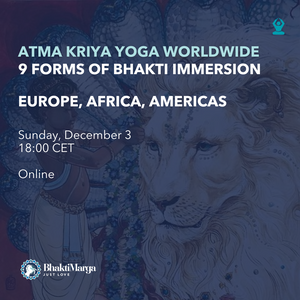 Atma Kriya Yoga Worldwide 9 Forms of Bhakti Immersion - Europe, Africa, Americas
Regular price
Sale price
$60.00
ATMA KRIYA YOGA WORLDWIDE:
Atma Kriya & the 9 Forms of Bhakti Immersion

"For the times we are living, Mahavatar Babaji told me to infuse the nine forms of bhakti into the kriya." - Paramahamsa Vishwananda

EUROPE, AFRICAS, AMERICAS

Sunday, December 3
18:00h-21:00h CET (Germany) 
12pm - 3pm ET (New York) 
9am-12pm PT (California) 
14:00-17:00h - (Buenos Aires)

*This immersion WILL be recorded* 
*Please double check your time zone*

'One is simply elevated by the nine forms of bhakti and all forms are connected with the glories of the Lord, and are the ways to connect, develop, and deepen our relationship with Him.'
- Paramahamsa Vishwananda

The worldwide Atma Kriya Yoga immersions are here to uplift all Atma Kriya Yogis worldwide and give both AKY practitioners and teachers important upgrades to deepen their daily practice. 
In this unique Atma Kriya Immersion with Swami Tulsidas, we will go deeper into the connection between Atma Kriya and the 9 forms of bhakti! 

What are the 9 Forms of Bhakti?
Shravanam: Listening or reading the glories of the Lord & His saints.
Kirtanam: Singing and chanting the divine names and glories of God.
Smaranam: Constant remembrance of the Divine.
Pada-Sevanam: Service to the Lotus Feet of the Lord.
Archanam: Offering of rituals & worship to the Divine.
Vandanam: The act of bowing down, physical prostration to the Lord.
Dasyam: The relationship as the servant of the Lord.
Sakhyam: The relationship of friendship with God
Atma-Nivedanam: Complete surrender. 
You will learn the deeper meaning of the 9 forms  in relation to the Atma Kriya Yoga techniques and how to apply this knowledge to strengthen your sadhana and deepen your relationship with God and Guru. 
Swamiji will also be able to answer any questions you may have during the immersion. 
Don't miss this opportunity to deepen your understanding of Atma Kriya Yoga and its connection to bhakti, uncover its hidden knowledge, and integrate this wisdom into your daily practice!  
What you will gain from this immersion:
Knowledge about the connection between the 9 forms of bhakti and the Atma Kriya Yoga techniques.
Integrate new knowledge of the techniques through guided meditation group practice.
Grow in love and confidence in your sadhana. 
Learn more about why Mahavatar Babaji and Paramahamsa Vishwananda gave these techniques to the world - and what it truly means that Guruji "infused" bhakti into the Kriya techniques. 
Learn how to use your Kriya to grow your bhakti and deepen your relationship with God and Guru.
Hope to see you there! 

TRANSLATIONS AVAILABLE  
Discount Code Available Upon Request 
*This course is for initiated Atma Kriya Yoga practitioners only*